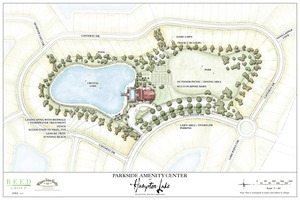 We are excited to announce that we are now well underway on the construction of the first phase of Hampton Lake's next amenity center, Parkside! At the Town Hall meeting on April 5th, we revealed updated plans, amenity program details, expected completion timelines and renderings.
CRYSTAL LAKE
The first phase includes the completion of the Crystal Lake, a 4+ acre crystal clear swimming and activity lake with a white sand bottom. The lake will be fenced, surrounded by a 1/3 mile steel edged, plantation granite fine mix walking trail and will feature beach areas with seating and tiki huts. A section of the future permanent parking area will also be completed in the first phase. Our goal is to have a soft opening of this area by July 1st.
SPORTS COURTS & POOL
Once the Crystal Lake area is completed, we will move into the second phase with the design and completion of the sports courts featured on the plan. This includes 4 pickleball courts, 2 bocce courts, a basketball court and play field area. The anticipated completion date for this sports court area is mid to late Fall.  Based on sales pace, our hope is to start final design on the new pool facility, with a targeted opening of next Summer.
TENNIS COURTS
With the basketball court moving to Parkside, our plan is to improve the existing tennis facilities at Lakeside by converting the existing basketball court area into a 4th tennis court, as well as adding a shaded seating platform for viewing tournament play.  This project will start after we have completed the sports courts at Parkside sometime this Fall.
FINAL PHASE
The final phase of Parkside will be the completion of a large playing field, rubberized 1/3 mile track surround the field, and the enclosed multi-purpose pavilion building with amphitheater stage and a catering kitchen. The timing of the final phase will be based on sales pace to include future sales in the Northern Sandhill Tract.